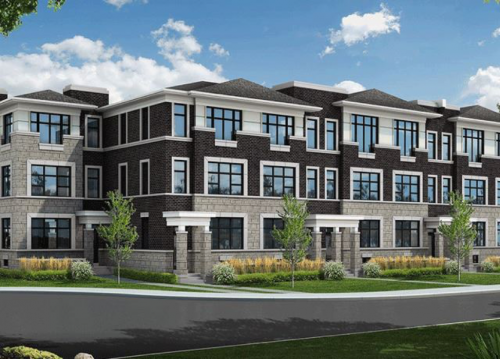 Belmont Towns Sterling 4 Floor Plan Walkthrough
Located in Toronto's most family friendly neighbourhood right next to transit and abundant nature, our Belmont Towns community is made for family living! With close proximity to shopping, entertainment, and great schools, this location offers something for everyone in your family. Read on as we walk you through the Belmont Towns floor plan of the Sterling 4, which is a 2501 sq. ft corner unit. Tour this floor plan now to picture living in a spacious Belmont Townhome!
Exterior
Before you enter the Sterling 4, let's first take note of the premium exterior finishes. The covered portico is a shady spot to relax during summer and take in the vibrant green space of the Belmont Towns community. The decorative pavers on the driveways and doorways add a touch of luxury, while the lovely community landscaping completes the picture.
First Floor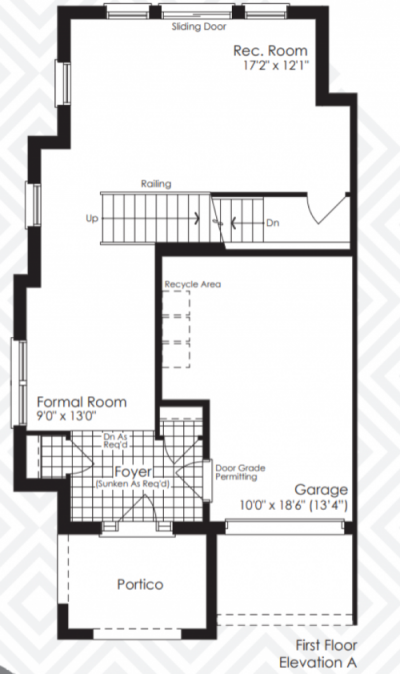 When you enter the foyer, you have an option for it to be sunken, increasing ceiling height and adding spaciousness. On your right is the garage, with a conveniently built in recycling area– no more excuses for the kids to not take out the trash! You'll then move to the well-lit formal room, where tall windows allow plenty of sunlight. This could be an office area to get some work done after dinner or on the weekends, as well as a homework nook for kids that allows better concentration. Alternatively, it would work great as extra storage space with its closeness to the entrance and ample room for shelving. Finally, the large and airy 17"x 12" rec room is filled with light from its sliding doors. This could be a retreat for independent teens who want their own space, or a great playroom for younger children. Before moving up to the second floor, we'll quickly mention the basement, which has the option of a washroom, providing the potential for an ensuite for in-laws who require privacy away from the hustle and bustle of the rest of the family.
Second Floor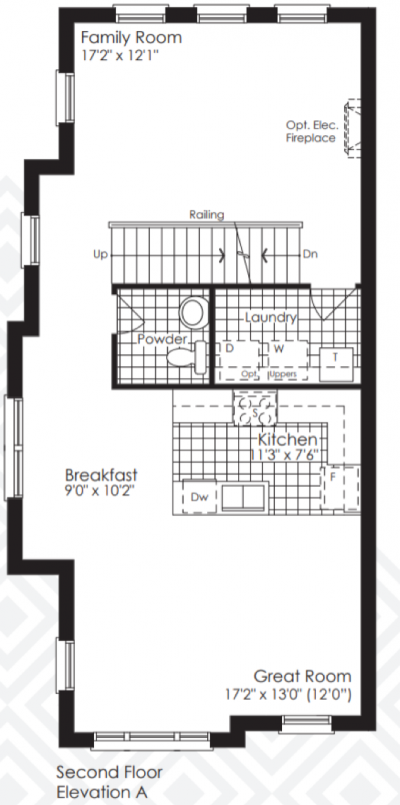 The first thing you'll notice on the second floor is even more open, light-filled areas that are adaptable to the many ways your family lives, works, and plays. Guests will feel right at home in the great room and the family room with an optional electrical fireplace and designer laminate flooring. You'll love curling up with a book or movie in this room that is sure to be the central gathering place for your family. The great room could be used as a dining room or parlour.
However, you'll notice this spacious floor plan includes a breakfast area, so you have multiple options for dining spaces. Foodies will be enamoured with our chef-inspired kitchen, which features imported ceramic tiles and quality built cabinetry. This premium space outfitted with quality stainless steel appliances will allow you to entertain with style. The extended upper cabinets allow for plenty of storage, meaning you'll never run out of space for pantry staples or pots and pans. This welcoming kitchen will be the heart of your home, where wonderful family meals and memories will be cooked up! Just before we proceed to the next space, we'll note the laundry room which has ample space for a folding table and shelving, as well as the powder room, which is outfitted with striking accent lighting.
Third Floor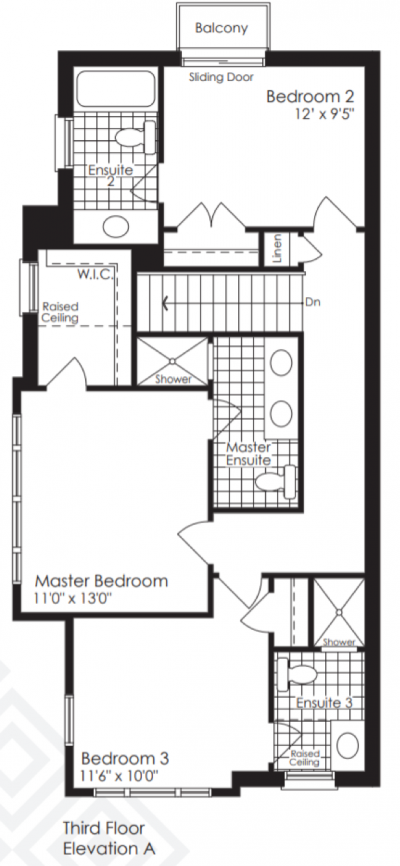 The topmost floor contains the family bedrooms; all with ensuites outfitted with imported tiling. These are comfortable, luxurious spaces where each member will be able to relax and recharge. First, the master bedroom, which has large windows that take up almost all of one wall. A large walk-in closet with a raised ceiling offers premium storage space. The beautiful master ensuite offers his and hers vanities and a spacious walk-in shower. The second bedroom is enhanced with a private balcony and an ensuite with a tub to luxuriate in. Our last bedroom has a raised ceiling in its ensuite, as well as windows on two different walls for maximum light. Each of these rooms provides flexibility for you and your family. Bedrooms with ensuites are perfect for in-laws who need privacy as well as guest bedrooms. Thinking outside the box, a bedroom could be converted to a home office or a TV room; whatever it is that suits your family's needs!
Now that we've taken you through our Belmont Towns floor plan walkthrough we hope you have a clearer vision of your family in our community! We believe our Sterling 4 model provides plenty of communal spaces to gather together as well as multi-functional rooms that can adapt to your individual family's needs. Luxury finishes such as 9 ft ceilings complete the package for a premium home! Don't forget to follow along on the Caliber Homes Blog to keep updated on our communities.