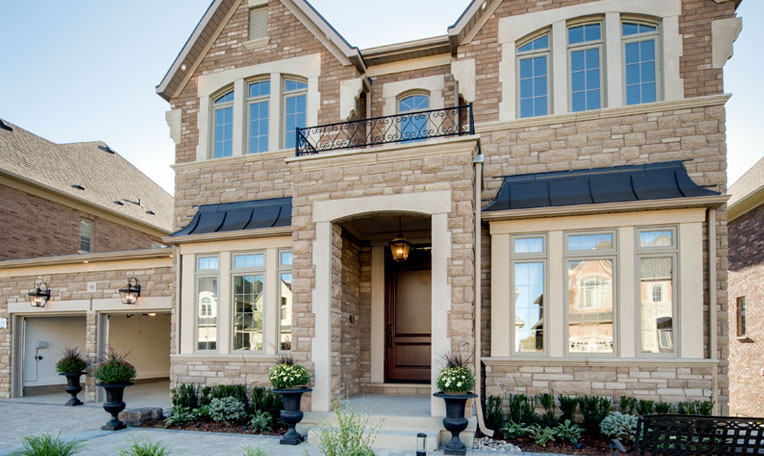 7 Ways To Add Curb Appeal And Increase Your Home's Value
A home with curb appeal looks more inviting to others, but it also welcomes you home at the end of every day. It can certainly boost your home's value, as potential buyers are immediately attracted to a well-kept property. Adding curb appeal doesn't have to cost a lot, as there are multiple ways you can improve the exterior of your home. Here are seven ways to add curb appeal and increase your home's value.
A Prominent, Welcoming Front Door
Make sure your front door is prominent and easily visible. This means keeping the path leading up to your doorway free and unobstructed; clear away any overgrown bushes or other elements that might block sightlines from the street. Painting is a great way to make your front door stand out and it doesn't have to be a bright, attention-grabbing colour either; deep, rich hues look very elegant and create great visual impact. Adding colour to your front door also helps set it apart from others on your street. Wood finishes look custom and can be stained in a range of shades.
Exterior Lighting
Think about how your home looks at night. Does it appear as inviting when it's dark out? You can really change the look of your home's exterior with a bit of strategically placed lighting. Rather than simply relying on the standard lights over your front door and garage, layer in some additional illumination. Downlighting works well; you can also wash your walls with extra lighting. For exterior house lighting, it's best to consult with a professional.
Gardens
Even if you are more of a minimalist when it comes to gardening, be sure to add at least a few flowers. Plants and flowers help soften all of the hard edges on a property, adding much-needed colour, height, texture, and dimension. If you'd prefer not to plant extensive garden beds, simply keep your grass neatly trimmed and display flowers in planters instead. Find pre-potted flowers, even striking perennials, at your local nursery or grocery store. Depending on the colour palette of your home's exterior, you can go with vibrant colours, muted neutrals, or a mix—they all look great!
Trees And Shrubs
We don't always think about planting trees or shrubs to add curb appeal, but we should; they're worthwhile investments. They get more impressive looking every year and offer the added bonus of offering a nice view in both directions: they greatly improve the appearance of the exterior of your home and from the inside you'll have gorgeous views of the outdoors. Trees and shrubs also add privacy, particularly for any main floor windows, and pockets of shade.
Landscape Lighting
Once the lighting for your home is complete, it's time to think about lighting the property itself. You can drastically improve curb appeal simply by adding a few lights throughout your garden or using a single uplight to spotlight a tree. Illuminate the pathway leading to your front door and add extra lighting to any areas that are overly dark. For inspiration, take a walk through your own neighbourhood at night; you'll get some great ideas from your neighbours and can see what you like before committing to a purchase.
Small Sitting Area
It's not always possible to create a small sitting area in front of your home, but if you have the room, it's a lovely, homey touch. A single chair will do, as will a bench, a small loveseat, or a pair of patio chairs if space allows. Materials for your outdoor furniture pieces can include wood, rattan, wrought iron, resin, or plastic. 
Stonework
If there's room in the budget for some stonework, this is one investment that really pays off. Create a welcoming path to your front door, one that both looks great and adds some style to your property. Some designs are straight and geometric, all right angles, while others wend their way along, incorporating more of the landscape. When planning your hardscaping you can choose from a variety of materials, including different sizes, shapes, and colours of pavers, creating a look that's uniquely yours. 
Where will you start? Any one of these seven ways to add curb appeal will increase your home's value and bring you added enjoyment. Thanks for reading and be sure to follow along with the Caliber blog for more great home decor tips.