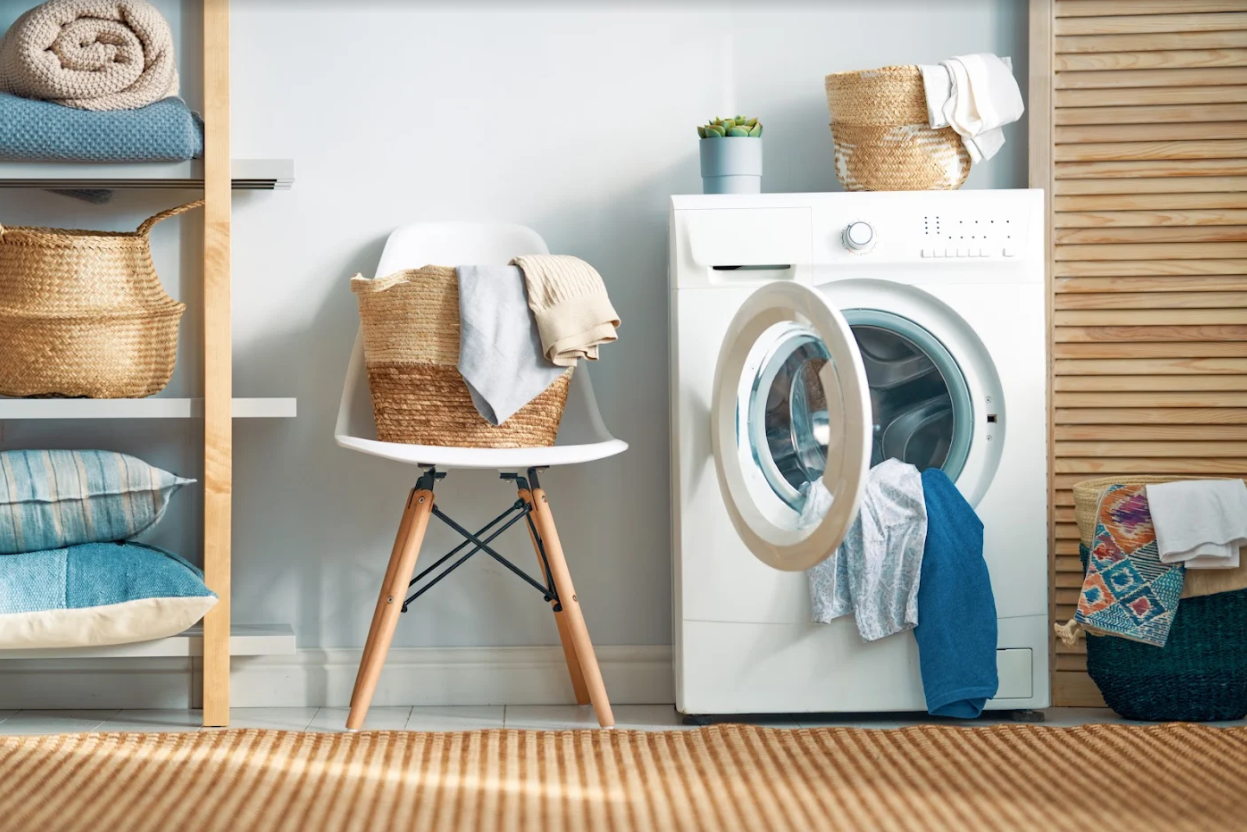 How To Create A Stunning And Functional Laundry Room
Gone are the days when the washer and dryer were hidden away in a dark, unfinished basement. Now they're often in plain view and they look spectacular! Glam up the laundry area in your home and make it a space you're proud to show off. Ideally this area is a reflection of the rest of your home; to achieve this, here are our top tips on how to create a stunning and functional laundry room.
Plan Distinct Zones
Think about the different tasks you perform in this space and delegate specific work areas where you can get these tasks done. Most of us need room to lay out clothes and linens before washing to tackle any stain removal. After washing, we might prefer to hang certain items to air-dry. Once clothing and towels are freshly dried, a flat surface for folding is helpful and, if room allows, enough space to do some ironing or steaming.
Use Decorative Storage To Keep The Area Neat
Keep the products you use regularly within arm's reach, while avoiding a clutter-filled countertop. If you have closed storage, tuck away your detergents, sprays, and dryer sheets. You can also use woven baskets, painted tins, canisters, and even trays to gather often-used laundry items together; this will help you stay organized while at the same time creating an eye-pleasing display. Keeping your laundry room clean and neat as you go makes the job of doing laundry itself much more enjoyable.
Add Colour
There's no reason your laundry room can't be both functional and high style! Feel free to add colour to this space, to whatever degree you like. You could go all out and paint existing cabinetry, the walls, or just a single wall as an accent. You could put up some wallpaper or add colour through the accessories you choose. If there are windows in or around your laundry room, use colourful textiles in your window coverings to add a pop of brightness.
Consider Your Lighting
Lighting can really make a space stand out and it can be fun to experiment with different lighting looks and moods. As with other areas throughout the home, aim for layers of lighting rather than relying on standard ceiling-mounted fixtures alone. You can certainly find a fixture that speaks to your design style and makes a statement, but also think about task lighting, making sure those specific work zones outlined earlier are bright and well-lit. 
Accessorize
Make your laundry room feel homey! If you love plants, include some greenery. Hang some art, a vintage sign, or decorate with a well-placed whimsical accessory or two. You don't need to add much—just a little something to show your personality. These items generally don't cost much at all but can really liven up a space.
Anyone can create a laundry room that is both stunning and functional. Any of these tips, alone or in combination, will go a long way towards bringing your laundry area to life. Thanks for reading and be sure to follow along with the Caliber blog for more home decor advice.