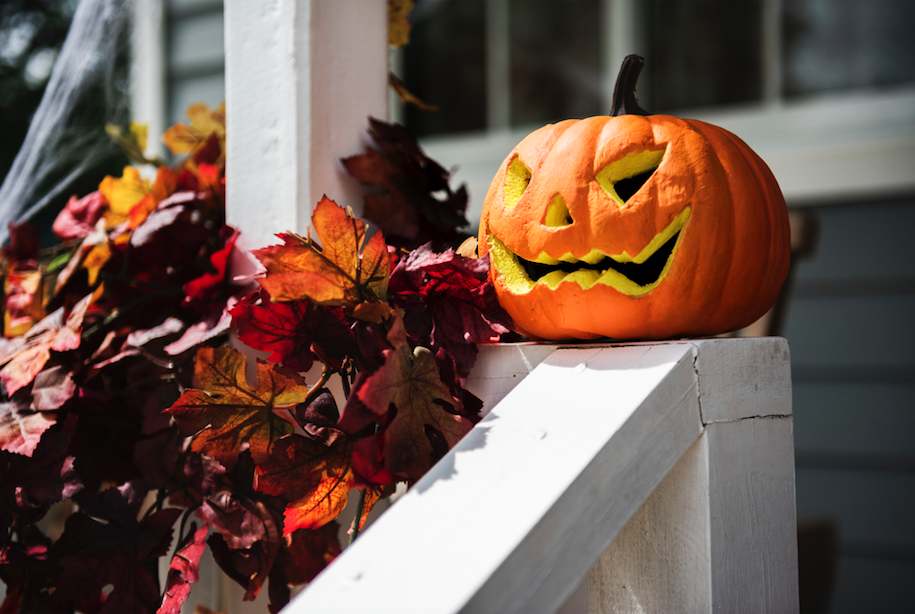 Chilling And Thrilling Halloween Porch Decorations
If you were hoping to dress up the exterior of your home for Halloween this year, we've got some great decor ideas you might want to try. Whether you have trick-or-treaters in your own household or you just want to spoil the neighbourhood kids, a decorated porch is something you can enjoy for weeks and not just on Halloween night. These ideas can be made as spooky or as sweet as you like; families with little ones might prefer a cuter style over a scarier one. Here are our favourite ideas for chilling and thrilling Halloween porch decorations.
Witches' Den
If you really want to set the scene, why not commit to telling a story with your Halloween decor? To create a witches' den, you'll definitely want to have at least one witch—though multiple witches would really add to the effect. A cauldron, black cat, witch's hat, broom, and a book of spells would complete the look. Then you can add in any of the usual Halloween trappings that you happen to have on hand, such as cobwebs, bats, skeletons, and pumpkins to round out the display. You could also try placing cut-outs in windows, with the witches' shadows visible from the street.   
Haunted House
Have fun creating your own vision of a haunted house. You can incorporate lots of different elements to achieve the desired look: bare branches, bats, cobwebs, ghosts, and skeletons work well. To really add to the ambiance, use some spooky sounds or scary music in the background. Think about your lighting as well; you can use battery-operated flickering candles or an orange-coloured bulb to cast an eerie glow. We recommend starting your decorations closer to the street and creating a specific pathway for trick-or-treaters to follow, to give them the full haunted house experience.
Graveyard
Create a graveyard on your front lawn, along your walkway, or on your front porch. Arrange some headstones and perhaps a cross to start; you can amp it up and make it really spooky with the addition of skeletons and ghosts. To take it to another level, use a fog machine to create an added sense of mystery and foreboding. 
Giant Spider Web
One of the creepiest scenarios is to create a giant spider web. Make one large dramatic web that starts from your front porch and stretches all the way up to your door, or do several smaller ones that you can spread out and surround the space with. Of course, nothing scares people quite like a massive, oversized spider; you might also want to create a group of smaller spiders that have spilled out and appear to be overtaking your porch. 
Spooky Forest
Sometimes taking a more subtle approach can yield results that are just as impressive. Create your own Sleepy Hollow-style spooky forest using any trees, bushes, or plants to string lights and hang lanterns with battery-operated candles. Go for a real mood here, adding bats, ravens, owls, and other creatures of the night to the scene; using sound effects adds another layer of fright. You can also add some menacing shadows—either using outdoor lights or cutouts that you place in your windows and illuminate from inside your home.
We hope you're starting to get into the Halloween spirit! Thank you for reading and don't forget to follow along with the Caliber blog for more Fall decorating ideas.