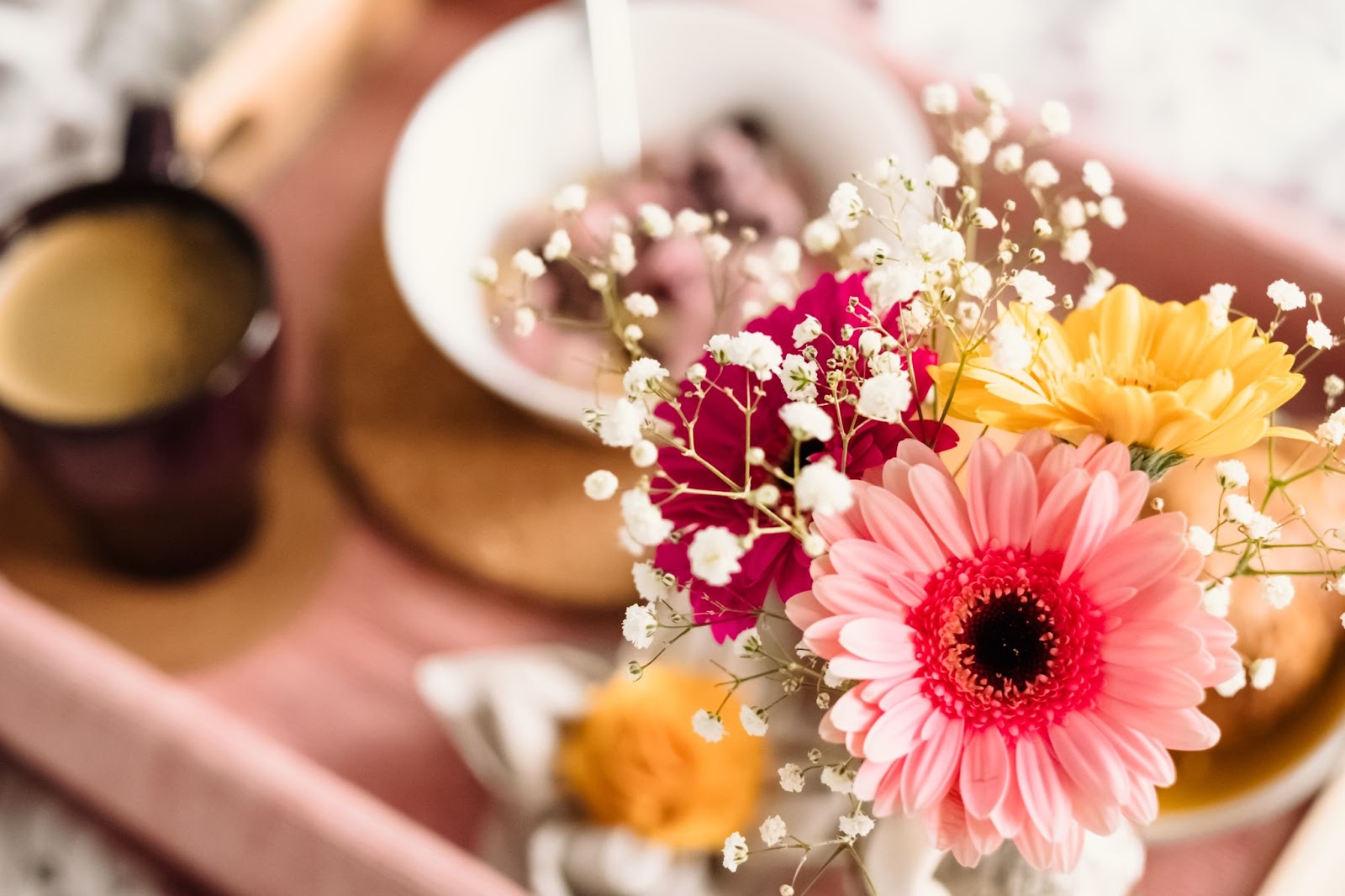 6 Easy Ways To Incorporate Spring Into Your Home
Longer, sunnier, blue-sky days are arriving and our collective spirits are up! Let's bring some of that vibrant Spring energy into our interiors, refreshing and reinvigorating our living spaces to match the display that's going on outside. There are lots of ways to do this—from simple cleaning tasks to picking out a few colourful blooms—to help celebrate this long-awaited change in seasons. Read on for 6 easy ways to incorporate Spring into your home.
Freshen The Air
Let's welcome some of that glorious Spring air indoors to freshen things up. Start by thoroughly cleaning your windows to get them spotlessly clear; to DIY an eco-friendly glass cleaner, simply create a 1:1 solution with one part vinegar, one part water. Don't forget to clean your window sills too; they too accumulate dust and dirt over the winter months and can be wiped down in a flash. Even on days when it is still a bit chilly outside, open your windows for at least a few minutes a day—it can do wonders to lift your spirits and improve the air quality in your home. If you want to add a bit of romance to your bedroom, hang some light, gauzy curtains to capture those Springtime breezes and create instant atmosphere. 
Wash Your Linens
We recommend a thorough cleaning of your linens in the Spring that includes all of your sheets, bedding, throw blankets, and decorative pillowcases. For larger, bulkier items like bedspreads or quilts, you can take them to a dry cleaners and ask for them to be laundered or you can visit a local laundromat where they have a few extra-large machines that can handle heavier loads. Many also like to use this time to go through their linen closets and get rid of worn items. Cut up and repurpose a few of these as rags that you can use for cleaning, pet care, and messier tasks around the house. With the rest, take advantage of York Region's excellent textile recycling program. 
Swap Your Fabrics
Now is the time to put away your heavier fabrics and replace them with an assortment of lighter layers. Once all of your linens have been washed, pack away the warmer ones so they'll be clean and ready for you to pull out later in the year. Then focus on creating comfort for the Spring months instead: use lighter, more breathable sheets on your bed; thinner, more elegant Turkish or hammam towels that dry a little faster; and lighter knit throw blankets you can layer to stave off the chill on rainy days. 
Rearrange Some Furniture
One of our favourite ways to freshen up our spaces is to simply get creative with the layout. Rearranging a few pieces of furniture helps you to see a room differently and experience it a whole new way. Pick a room you'd like to reimagine and play with the current furniture placement. You might want to maximize the view you have from a window that overlooks a garden, for example, fashion a window seat that looks onto a back deck, or create a cozy conversation area, for example. Even if you just move a few of the accent pieces in a room, such as side tables, artwork, or lamps, it allows you to experience the space anew and can feel like a real change to welcome in a new season.
Amp Up The Greenery
Greenery is always a welcome touch indoors and the new growth of Spring brings with it such a gorgeous palette of pastels to brighten any space. You can introduce fresh flowers, whether potted or cut, start an indoor garden, grow some herbs, or start some seeds to be planted outside later. A few pops of colour will brighten your decor and serve as a nod to the season. Some of the traditional favourites this time of year include pussywillow branches, forsythia, daffodils, tulips, hyacinth, lilies and lilacs. For inspiration, check out TERRA Greenhouses in Vaughan or the online garden center Greenhouse to Garden. 
Find A Light Scent
As a finishing touch for your decor, add a fresh, light scent. It can come in the form of an organic candle or a diffuser (Canadian company Saje has a range of diffuser blends perfect for Spring, such as cherry blossom, lemon drop, liquid sunshine, and fresh air). There are natural ways you can make your home smell like Spring too; create your own room spray by adding a few dried flowers and herbs to a spray bottle filled with distilled water. Lavender, sweet pea, gardenia, lemon, thyme, sage, and rosemary all work well. 
These easy ways to incorporate Spring into your home will have your space feeling just as fresh and renewed as the outdoors. Thank you for reading and don't forget to follow along with the Caliber blog for more great home maintenance and decor tips.