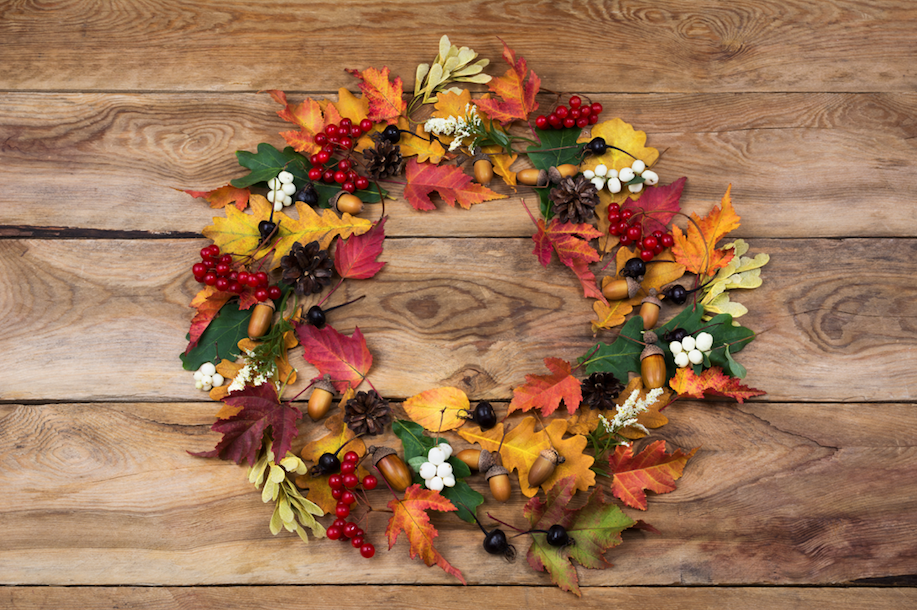 4 DIY Fall Wreath Ideas
This Fall, why not decorate with an autumn-themed wreath? Wreaths aren't just for front doors, though they certainly make a welcoming statement there; you can also use them in your interior decor too, hanging them from doors, window frames, banisters, and in front of mirrors. Here are our 4 favourite DIY Fall wreath ideas—each is an easy project that requires just a few materials.
Fall Harvest Wreath
The sight of red apples or small gourds definitely signals that the Fall is upon us, so why not incorporate these into your decor? It's an inexpensive way to add colour, texture, and visual interest, and the materials couldn't be easier to find this time of year. Simply take a grapevine wreath and add some faux fruit to it, arranging it all the way around (or only partially, for a more modern take), and fixing it into place with a hot glue gun. Hang with a complementary or contrasting ribbon as a finishing touch. For Fall, plaid ribbons work well, as do velvets, burlap, and anything jewel-toned.
Pine Cone Wreath
Pine cones are ideal for decorating as they're easy to come by, rustic in appearance, and can last for ages. Seasonally they're chameleon-like too, as you can use them in Fall decor, all throughout the holiday season, and right through the winter months until Spring. To make this project, start with a wooden wreath form purchased from a craft or big box store, a bunch of craft store pinecones (using different sizes adds interest, though you can certainly use a uniform size throughout), some burlap ribbon, and hot glue. Acorns are another option that look great and somewhat whimsical—using a grapevine wreath works best in this case as it's easier to nestle the individual acorns into the natural nooks and crannies.
Fall Leaf Wreath
There's nothing like the changing colours of the leaves in Fall, so why not prolong the joy of all those saturated colours by making a wreath out of them? You can use faux or real leaves in this project; just affix them to your wreath form and hang with either wire or a favourite ribbon. For a bit of sparkle, you can use a little metallic spray paint first to add some shine to a couple of the leaves. You could also weave in some sprigs of berry (faux) to break up the look a bit. 
Autumn-Themed Hoop Wreath
If you want a more eclectic look and like to incorporate a mix of different elements, do just that! Use some faux leaves, eucalyptus branches, plaid ribbon, and mini gourds, even some felt flowers, attaching them to the wreath form of your choice. Play around with the arrangement until you're satisfied with the balance of colour and texture—you really can't go wrong here. You might also want to incorporate your house number or an initial to personalize it even more. Another fun addition is suspending a mini chalkboard in the middle of the wreath with some wire and writing a cheery seasonal message on it.
These are just a few ideas you can use to create your own stunning DIY Fall wreath. Thank you for reading and don't forget to follow along with the Caliber blog for more great seasonal decor tips.