Celebrate Father's day at Home
Father's Day is a time for families to express how important and loved their dad is to them.  And while an extravagant adventure or trip to an expensive restaurant may seem like a good choice for a Father's Day activity, a relaxing day at home may be even more appreciated by your hard working dad.  When planning ways to entertain your dad at home on Father's Day, it is important to think about what your father likes and how he might most enjoy his special day.  Father's Day falls on June 19 this year, so it's not too early to start thinking of ways to entertain your dad on Father's Day at home.  Below are four ideas.
Create a Special Memory with a Slideshow of All the Fun You and Your Dad Have had Together Over the Years.
Present your dad with a slideshow showing all the things your father, you and the rest of the family have done together over the years.  And, take the time to write a caption for each photo, describing your memory and what it meant to you.  Your dad will love the laughter and reminiscing of the entire family as everyone sits back, grabs a snack, and watches the memories pop up, one by one, on the TV screen.   Looking back at these great memories is a wonderful way to show your dad how much you care about him and how important the time was he spent with you and the family.
For the Sports Enthusiast Dad, the Toronto Blue Jays vs. the Biltmore Orioles is on TV June 19th
If your dad loves to watch sports, particularly baseball, consider spending  Father's Day afternoon at home watching the Toronto Blue Jays play the Baltimore Orioles on TV.  Add to the fun by purchasing Blue Jay memorabilia – cups, T-shirts, hat, banners etc.   And be sure to serve your dad's favorite ballpark foods like hot dogs, peanuts, beer and of course a Blue Jays cake.
Celebrate Father's Day with a Family BBQ in the Backyard
If your dad loves to be surrounded by all the family, invite the aunts, uncles, grandparents, everyone over for a family BBQ. Be sure to ask your dad what he wants to eat – steak, burgers, chicken – it's up to him.  And don't forget his to serve his favorite drinks, side dishes and dessert too.  Decor for a Father's Day's picnic should be masculine.  Consider a western theme with checkered tablecloths, silverware wrapped in a bandana/napkin, and old style metal coffee cups to serve the lemonade.  And for the centerpieces, consider giant sunflowers placed in old fashion coffee pots.
For the Dad that Loves His Recliner, a Movie Night is a Great Way to Spend Father's Day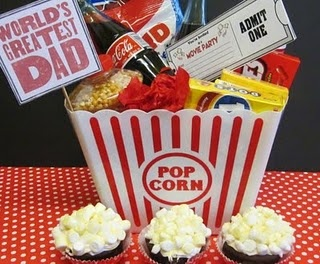 Find a copy of your dad's all time favorite movie (Dirty Harry, Godfather and Diehard are a few classic favorites of most men) or if there is a new one he wants to see pick that up and have them ready to play when your dad sits down for the movie.  And, don't forget food for the movie: order or make your dad's favorite pizza, get the popcorn ready to pop, serve his favorite drink.   It will be the perfect way to end a wonderful Father's Day.
Spending time with your dad on Father's Day is the best gift you can give him, and with a little planning, you will find a way to entertain him at home and have a beautiful, economical, and relaxing day.   For more information on how to entertain dad at home on Father's Day visit Caliber Homes.