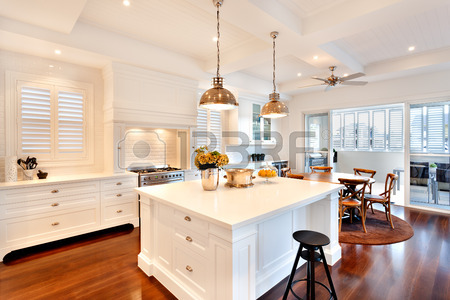 6 great kitchen upgrades for under $ 100
The kitchen is the busiest room in most homes.  Because of this, the kitchen is often the first room in a home to show wear and tear and become drab and old.   And while a major remodel of a kitchen can be out of reach, there are simple kitchen upgrades that will brighten up the space.  Ensure that your kitchen continues to be a place you and your family will enjoy cooking and gathering together with these six kitchen upgrades for under $100.
1. Adding Organized Storage is the Best Upgrade you can do for Your Kitchen
Create more counter and storage space with a sturdy, stainless steel kitchen cart.
Add character and create storage space with hanging storage baskets.
Take control of your under counter space with pull-out shelves and drawer organizers.
Hang a pot rack and free up under counter space.
Adding wall shelving will provide extra storage space and a place to show off favorite artwork and cookware.
2. Updating the Accent Features of Your Kitchen is a Quick and Effective Upgrade
Upgrading the background features of your kitchen is one of the easiest upgrades that will wake your kitchen up and make it sparkle.
Install new, modern, handles and pulls for your cabinetry.
Purchase new linens.
Install quality stainless steel switch plates.
Add crown molding across the top of your cabinetry.
3.  Upgrade Your Kitchen Walls or Cabinets with a Fresh Coat of Paint
Painting the walls or cabinets of your kitchen is an easy and inexpensive upgrade.  When choosing paints for the kitchen is important to consider a washable finish, which will make cleaning the kitchen easier.  You may also, want to consider neutral tones, which offer an excellent backdrop for decorating. And add interest to your kitchen by painting an accent wall several shades deeper than the rest of the room.
4. Upgrading the Lighting Will Brighten the Space and Make it More Welcoming
There is no such thing as too much lighting in a kitchen.  And, along with being functional, lights can give character and provide a focal point. Consider the following light additions to your kitchen.
Hang fun pendant lights over your sink or island.
Run rope lights around the base of your cabinetry (the kickplate) for ambiance and safety.
Illuminate workspace with lights installed underneath the top cabinets.
Switch out an overhead light with a vintage chandelier purchased at a local estate sale.
5. Uplift Your Kitchen by Dressing Up Your  Sink Area
There are several inexpensive upgrades you can do to the sink area that will give your kitchen a clean, sharp look.
Get a quality, reliable dish rack.
Install a new faucet.
Place a colorful rug in front of the sink
Replace your old dish towels.
Purchase unique, pretty soap and sponge holders.
6.  New Window Treatments Will Add Color and Style to Your Kitchen
Visit Caliber Homes for more information on great kitchen upgrades for under $100.