Unique Easter Dinner Ideas to Ensure a Wonderful Celebration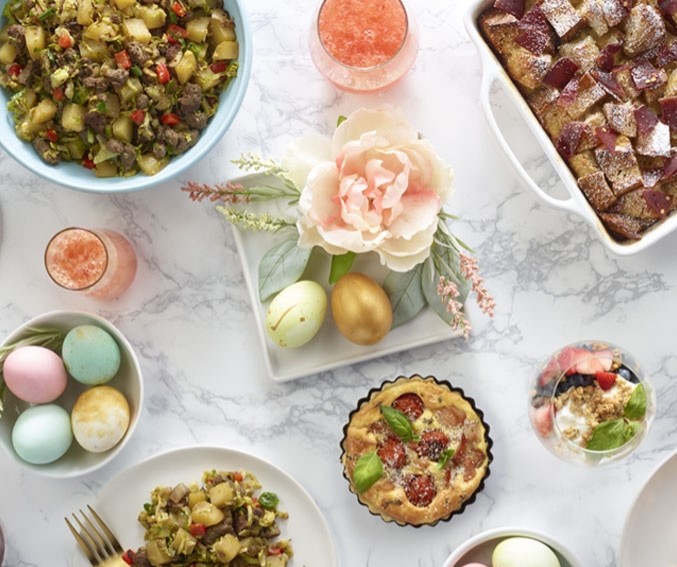 When hosting holiday dinners it is easy to feel overwhelmed and bogged down by the multiple details involved in entertaining. Our suggestion is to use a few foolproof tips that allow you to make an impression on your guests without too much extra time or money. Read on for our unique Easter Dinner ideas to craft a celebration to remember!

Pick an Unexpected Main Dish
It's likely your guests will be expecting ham as the main dish for your Easter celebrations, but don't fall into the trap of being overly bound to tradition. Do the unexpected and swap ham for lamb or cornish hens. Or stick to pork but try a more unusual cut like tenderloin, which can be marinated beforehand and roasted for an easy, elegant meal. This provides an added bonus of being much less fussy than preparing a whole ham. Whatever you choose, don't assume that your only choice to make Easter a success is ham!
Lay out Drinks and Apps to Greet your Guests
It may seem time-consuming to be thinking about drinks and appetizers when you are dealing with a full meal, but the truth is simple cocktails and a cheese platter or two can keep your guests occupied for hours while you tend to things in the kitchen. It's not hard to imagine how much more relaxed people are when they already have a drink in hand! You'll want to stick to something light to leave your guests room for wine with dinner and to evoke the springtime spirit of the holiday. Think lemon and floral notes with a few bubbles like this recipe. When it comes to crafting cheese and charcuterie platters, the key is variety across tastes and textures. Mix mild and sharp cheeses and make sure you have at least one soft and one hard cheese. For charcuterie boards add both milder and spicier options. Foodies say the key for both cheese and charcuterie platters is to include a little something sweet, like chutney, fruit, or dates. Lastly, make sure to cut into the cheese so your guests aren't too shy to be the first ones to grab a bite! Follow these simple tips and you're sure to entice your dinner guests this Easter and buy yourself a little extra time in the kitchen.
Get  Crafty with an Easter Tree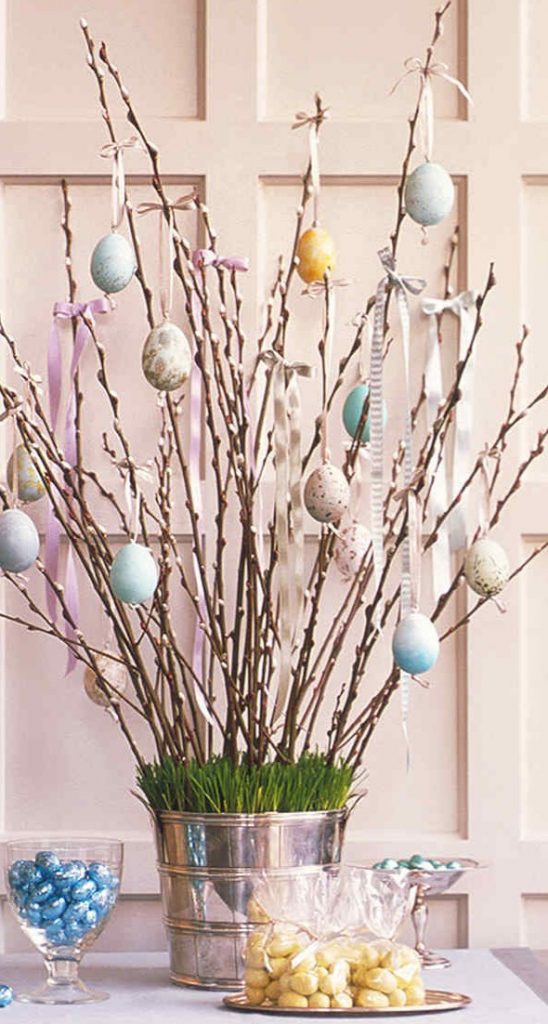 If you think holiday trees are only for Easter, think again. Easter trees originated in Germany and are a truly unique way to grab your guests' attention! To make one yourself, decorate eggs with a little food colouring and hang them on pussy willow branches gathered in a vase as suggested here. Another option is hot gluing jelly beans to the ends of branches for a more whimsical take. Kids love to help out and get in the spirit so make sure to involve them as well! If you don't consider yourself particularly crafty, don't worry. Grab a few store-bought ornaments and hang them on a cherry blossom tree for an equally impressive look. Either way, this unexpected decor idea is sure to wow your guests this Easter celebration!
Keep Kids Entertained With a Colouring Station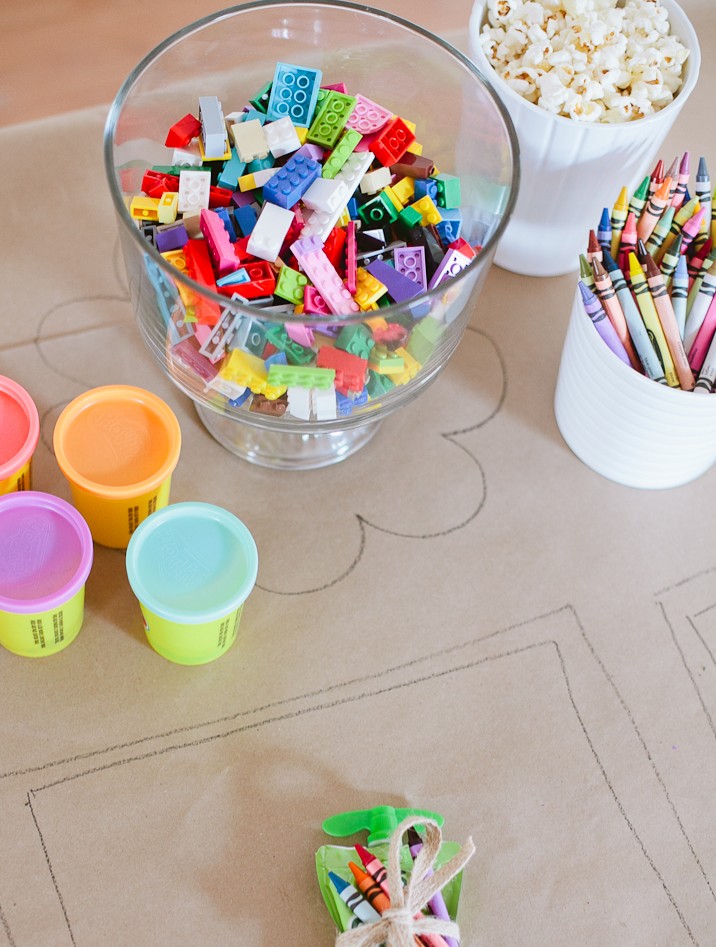 Similar to drinks and apps for adults, a colouring station serves not only to make you look like an excellent host but also to stop kids from repeatedly asking when the food's ready! Don't worry about being too precise with this as children are likely to get things messy pretty fast. Cover a table with butcher block paper, which gives kids a wide expanse to explore and draw on. This also protects your furniture from spills and allows for easy cleanup! Then, gather crayons, paints, stickers, and any other kid-friendly art supplies you have on hand. If you have a little extra time, you can even draw shapes on the butcher paper to give kids an idea of where to get started, or group supplies in a mason jar or mug decorated with the child's name on it. However much time you devote to it, you'll find a colouring station is an easy way to keep kids entertained during Easter dinner!
We hope you've found a little inspiration with our tips on how to impress your guests with our unique Easter dinner ideas! It takes just a little extra thought, whether it's with an unexpected main course or a beautifully decorated tree, to craft a holiday to remember! Happy Easter and make sure to follow us on the Caliber Homes blog for more great ideas.