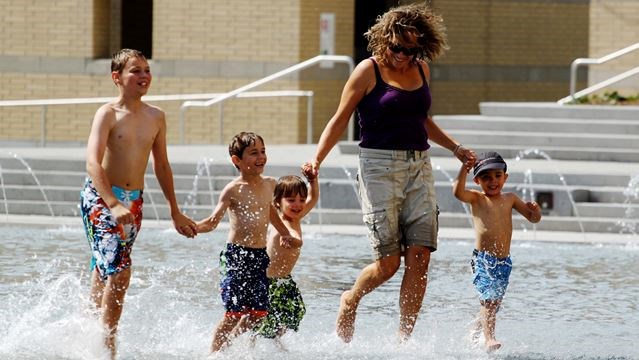 Our Favourite Activities in Brampton This Summer
School is out, and the sun is shining in the sky, providing the perfect weather for outdoor fun and activities for people of all ages. Take advantage of the summer this year, and take part in some of our favourite activities in Brampton.
Heart Lake Conservation Area
With a wet and wild splash zone, tree top adventures, and nature trails, Heart Lake Conservation Area has everything you need to spend a day with the whole family.  Spend the day relaxing in the 840 sq. metre pool, or challenge your fear of heights high above the trees on a rope bridge, and swing from one of the many ziplines the park has to offer. This park is one of the many summer activities that Brampton has to offer.
City of Brampton Summer Camps
If you are searching for inspiration for activities for your children, and are not available for the entire summer, the City of Brampton offers a variety of day camps for children of all ages, complete with before and after care for your convenience. The camps include activities such as art, adventure, leadership, sports, and more, with the first date being July 3rd, 2017. For more information, including a list of programs, and how to register, visit the City of Brampton's website.
Summer in the Square
Every summer, the City of Brampton offers a variety of exciting, family friendly activities in Garden Square. The Summer in the Square Series features movies, concerts, and more, and all the activities are free to attend. Bring a lawn chair, and enjoy quality family time in the centre of the city.
Wet 'N Wild Toronto
On a hot summer day, a fun and exciting way to cool you and your family off is to spend the day at the newly renovated Wet 'N Wild Toronto water park. After 25 million dollars of renovations, the park now offers multiple attractions, including a lazy river, raft rides, a water filled play structure, and more. With attractions for the entire family, and an optional meal plan, there is a reason it is one of our favourite activities in the summer in Brampton.
Historic Bovaird House
Spend a day exploring the past and visit the Historic Bovaird House. Set on a 2 acre park, this house is set up as a traditional pioneer home would have been in the mid 19th century. The museum offers a wide variety of special events, but is also open for self guided tours every Wednesday, Saturday, and Sunday. With free admission or admission by donation, this house is a great way to educate your family on the history of the area.
Chinguacousy Park
Known as Brampton's destination park, Chinguacousy Park is a fantastic way to keep everyone in your family occupied for the whole day. Not only does the park feature beautiful gardens and walking trails, but it also has a full size petting zoo, a mini train ride, a splash pad, and a playground. Bring a picnic and spend the whole day enjoying the many family friendly activities this park has to offer.
Whether your family is looking for outdoor activities this summer, or you are searching for something to keep your kids occupied for the remainder of the summer, the City of Brampton has many activities to enjoy. For more information on summer activities in Brampton, visit the Caliber Homes blog.