How to Create a Luxury Master Bedroom on a Budget?
Retreating to a luxurious master bedroom to relax and recharge our minds and bodies is something we all want.  A room that is also conducive to a great night's sleep.  The decor for any master bedroom should create a calm, soothing, comfortable atmosphere where its occupants can escape from their hectic, stressful lives.  The good news is, a luxurious master bedroom can be achieved, even on a budget.  A few ideas for creating a 5-star home sanctuary include declutter the room, paint the walls, luxurize the bed, select a unique centerpiece, and layer the lighting.
1- Declutter and Organize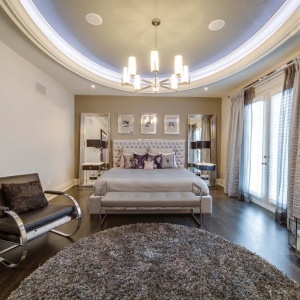 The first thing to do when creating a luxurious master bedroom is to clean and declutter.  Empty the room of anything that is not needed: old books, shoes, long deserted projects, the stacks of bills, dirty laundry, etc.  Organize your nightstand and dresser. Then clean from top to bottom. You what the essence of the room to be relaxing and calm, not chaotic and disorganized.  There is nothing luxurious about dust and clutter.
2- Paint the Walls of Your Bedroom.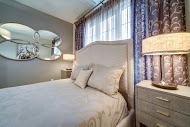 When you enter your bedroom, the wall color is the first thing you notice. An inexpensive and simple way to upgrade
your bedroom is to give the room a fresh coat of 100% acrylic paint; select soothing, calming colors like light blues, sage greens, and neutral linen shades.
3- Luxurize your Bed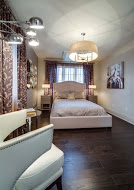 The bed is the largest piece of furniture in the bedroom and should radiate luxury.  To accomplish this, purchase a new elegant multi weave bedcover and top with matching plush, overfilled throw pillows. To make the bed even more luxurious add a down filled mattress topper and new luxury linens.  A final crowning touch to the bed is a chic, padded headboard.  All of these items are easily available at closeout stores and discount centers.
4- Add a Glamourous Centerpiece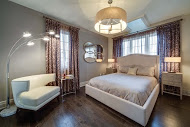 Adding a single centerpiece and focal point to the bedroom is an excellent way to add glamour and character. Examples of centerpieces would be an antique dresser or storage chest with unique new hardware or a large, plush chair for two.  Estate sales, flea markets, and secondhand stores often showcase endless unique treasures that can add a focal point and glamour to your bedroom.
5- Add Creative, Layered Lighting
Illuminating your luxurious bedroom can be as simple as layering lighting throughout the room and adding one or two unique pieces.  To achieve layering, install dimmers to your overhead light or floor lamps, frame the bed with wall lights and hang decorative fairy lights.  All this will soften the glow in the room and give a nice ambiance.  To add character and glamour to your bedroom, add designer-look lamps, antique sconces or a gorgeous chandelier.  If you scour flea markets, second-hand stores, or estate sales you'll be surprised want budget-friendly-unique lighting fixtures, you can find.
Creating a luxury master bedroom on a budget can be done with a little imagination and elbow grease.  But, once complete you will have a gorgeous, peaceful retreat to relax at the end of your busy day; well worth your efforts.   For more ideas on creating a luxury master bedroom on a budget visit Caliber Homes.