Creating the Perfect Home Theatre
Home theatres are all the rage.  And today, 5-star home theatres can be found in the basements of 1960s ranch homes or showcased in the elaborate wings of luxurious mansions. In all cases, if done right, these custom entertainment spaces add to a home's enjoyment and resale value.  Successful planning and designing of the perfect home theatre  involves a few considerations: location, the number of viewers and their audio-visual and design wish list, and the desired ambiance of the theater.
Location of the Home Theatre
The location of your home theatre is dependent on the size of the viewing screen and the number of people you want to sit in the room.  Also, it is important to choose a space where you can control, as much as possible, comfort, light and sound quality; and ideally, a rectangular, windowless room is best for a home theatre.   Once you decide on the room and your budget, you can create a layout that diagrams the room with its equipment and features.   All home theatres will need hidden wiring and connections, speakers, theater-style seating, dimmable lighting, heating/air conditioning, a concession stand, and either a large screen TV or projector and screen.
Choosing the Right Audio and Visual Features for Your Theater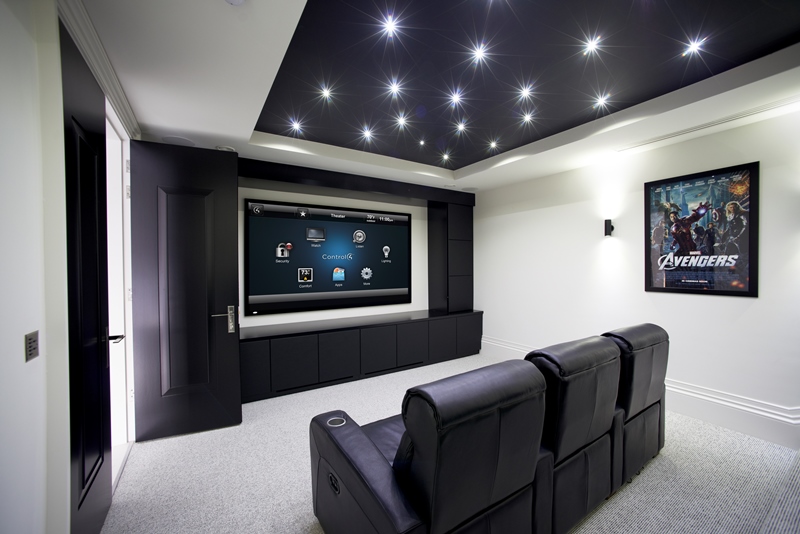 A home theatre blends a large-screen video with surround-sound audio and can be as simple as a big-screen television with basic surround sound or as extravagant as a drop down screen and booming speakers throughout the room. Once you've determined your design plan and budget, it is best to visit home technology and home theatre  showrooms and obtain expert advice on pricing and the state-of-the-art audio and visual equipment available for today's home theatres.
Creating the Perfect Home Theatre Interior Design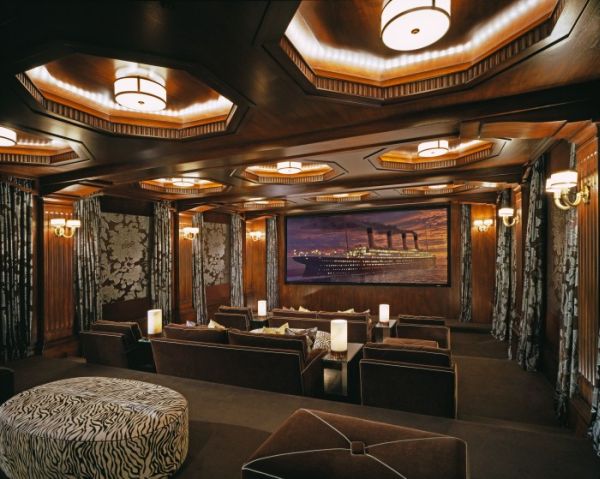 Whether your home theatre is a high end, custom design with a ceiling mural and top-of-the- line video and audio options or a budget version in your spare bedroom, all home theatres should include the following features:
Walls painted with a flat, neutral brown or tan color, which limits the room's reflective surfaces.
Installed wall to wall carpet for soundproofing and comfort.
Windows covered with room darkening drapes or blinds.
Installed adjustable or dimmable lighting.
Sound proofed walls with drywall.
Comfortable reclining seats which can adjust to view the screen from different angles and distances. Also, the seating should have built-in drink holders and be easy to clean.
A TV or projector and screen suitable to the size of the room and placed so that viewers look directly at the screen.
Create a concession stand for easy access to snacks and drinks.
Creating a perfect home theatre is dependent on good planning, the right equipment, comfortable seating and ambiance, quality installation and proper lighting.  To ensure a successful home theatre project, the assistance of a professional who can execute your design and suggest materials will be very beneficial.  For more design ideas on creating your perfect home visit Caliber Homes.